15/01/2019
elumatec AG
elumatec AG donates ES 710 1-head welding machine to prestigious Austrian university
Six years ago elumatec AG donated its ES 710 1-head welding machine to the Johannes Kepler University in Linz, Austria, initially on a short-term basis. Founded in 1966, the JKU is Austria's largest research and educational institution with four faculties, two schools and 130 professors across 127 institutes. The JKU's faculty of Engineering and Natural Sciences offers a range of Bachelor's degree programmes in computer science, mathematics, electronics, mechatronics, polymer engineering technologies and other fields, in which students can help shape the future by learning how to use scientific processes and innovation to solve problems.
And the mechatronics and polymer engineering technology courses are where elumatec and the ES 710 come into play: international research & development cooperation projects and their interrelationship with industrial and economic applications give students the opportunity to learn, investigate, analyse and understand their subject through practical experience.
"elumatec AG is a global market leader, and we are driven by a spirit of innovation and technological progress in order to give our customers the best possible solutions for their requirements. But that's not all we aspire to: whether at our headquarters in Lomersheim in Germany or at our subsidiaries' sites, we consider it extremely important to meet our obligations towards society and the economy. And that includes making whatever contribution we can towards research, education and training. We are therefore delighted to donate our 1-head welding machine to the Johannes Kepler University as a small but long-term contribution to the university's high-quality infrastructure and state-of-the-art technical laboratory equipment", said Ralf Haspel, CEO of elumatec AG.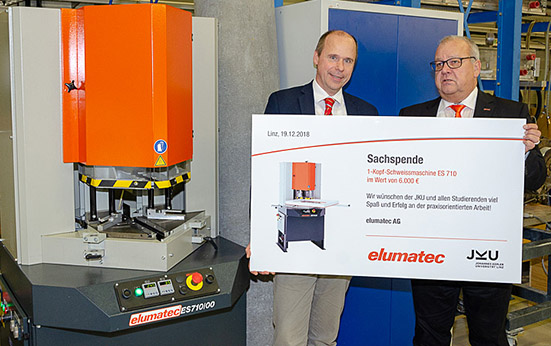 elumatec PVC Product Manager Armin Dangel (right) and deputy institute director Bernhard Löw-Baselli (left)
at the official handover ceremony for the ES 710 1-head welding machine.
Image copyright: elumatec AG, Mühlacker
---