A PLACE FOR BOTH -
TRADITION AND NEW IDEAS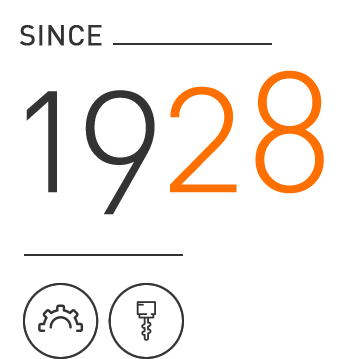 For craftsmen, for industry, for perfect profiles.
elumatec was founded in 1928 in the Swabian town of Mühlacker, between Karlsruhe and Stuttgart. At first we produced sand-cast parts; woodworking machines came later. In the 60s we focused consistently on profile machining for various materials, and with great success. Our clear focus on our ultimate goal – to secure and increase our customers' productivity – has made us a global market leader in the manufacture of machines for processing aluminium, PVC and steel profiles.

Our range of over 120 products means we can meet every possible requirement, with modular machine designs allowing flexible and customised solutions for all sectors and company sizes, from craftsman's enterprises to industrial profile machining operations.

Over 35,000 customers worldwide, impressive references and awards, more than 5,500 profile machining centres, a range of patents and trademarks, and annual consolidated sales of over 131 million euros show what we can do. But if there's one thing we're particularly proud of, it's this: despite our success in growing from a small craftsman's enterprise into a global business, we have remained a friendly, down-to-earth company which exemplifies the values of SME businesses, such as quality, flexibility, personality, reliability and proximity to customers.

One measure of the outstanding quality of our products is their longevity: many elumatec machines have been in service for more than 30 years.

With over 740 employees and with subsidiaries and dealers in over 50 countries, our presence covers the globe. If the worst comes to the worst, one of our team of over 150 service experts will be with you quickly on site, and our global supply of spare parts for your elumatec machines ensures a high level of production reliability.

Our passion and commitment is to develop the perfect solutions for you. Get to know us as a partner who understands your specific requirements and will tailor its products and services to meet them to the letter – we look forward to hearing from you!
History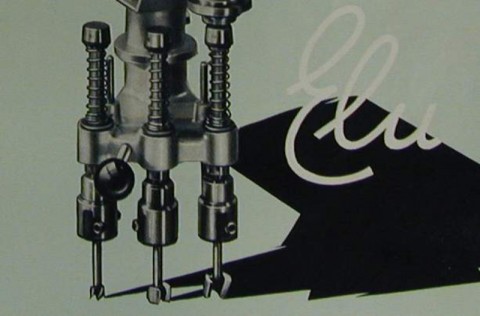 The Eugen Lutz company is established by Eugen Lutz sen. in Dürrmenz (today a district in the city of Mühlacker) as a foundry for the manufacture of light-metal sand-cast parts.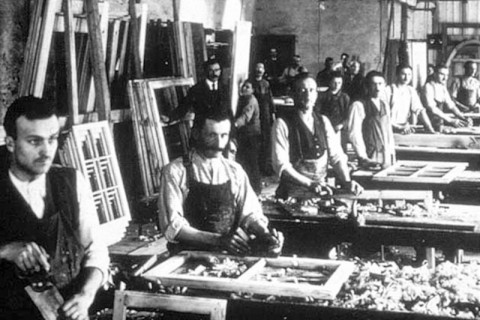 Production of elu machines begins in Mühlacker-Lomersheim with the MT 1 elu dish grinding machine as the first series product – a revolution in the world of carpentry.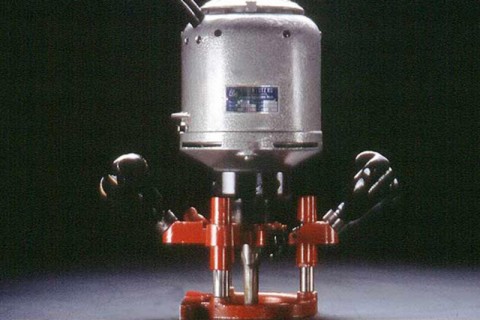 Our design teams develop new woodworking machines and power tools. The MOF 11 motorised manual overhead router with a high-performance universal motor takes the European market by storm.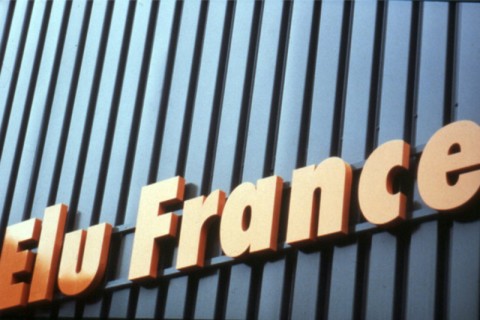 Establishment of the first foreign subsidiary in France.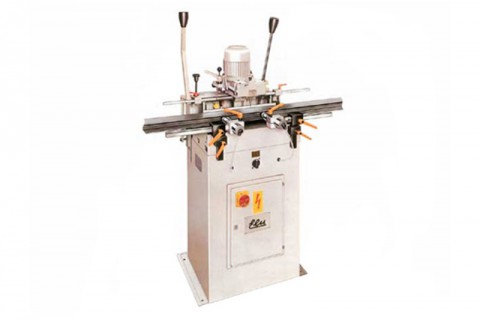 New to the range: Machines for machining aluminium and PVC profiles. The first single-spindle copy router, the AS 70, is developed for efficient hardware countersinking.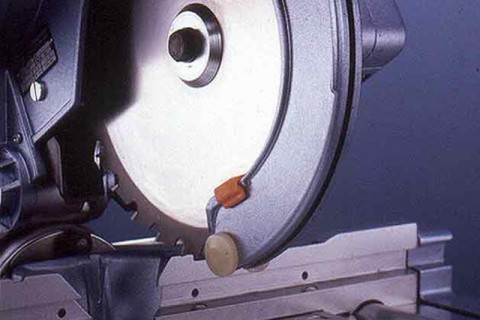 Better quality through better technology. A new elu invention: The TGS 71 table mitre saw. The indispensable precision saw with a patented pivoting mechanism.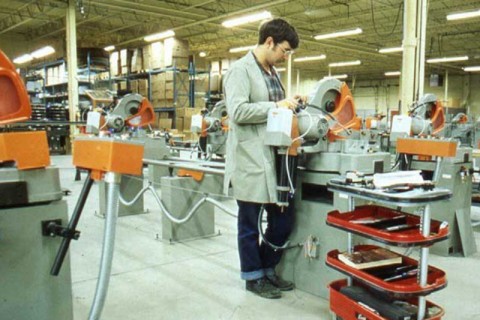 An elu technology milestone is set with the DG 79 double mitre saw. It is the first double mitre saw manufactured in large-scale series production for craftsman and industrial operations.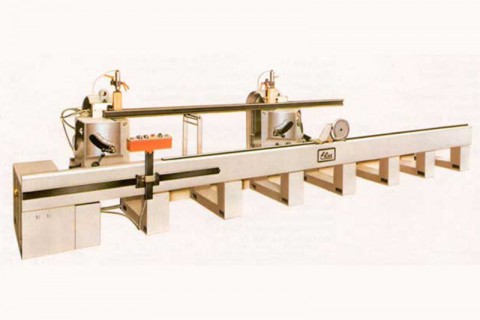 Innovative ideas are realised on the drawing board by our highly motivated engineers. Compound mitre cuts are made possible with the DG 184 double mitre saw.
Already in 1979, elu begins using a modern, computer-controlled high-bay warehouse for its logistics. The MGS 105 mitre saw is launched for customised production.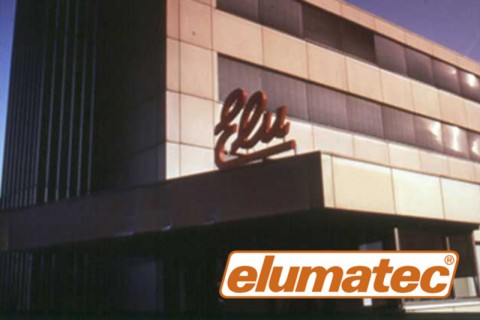 The elu power tool range and woodworking machines are sold to Black & Decker and the company brand is changed from "elu" to "elumatec".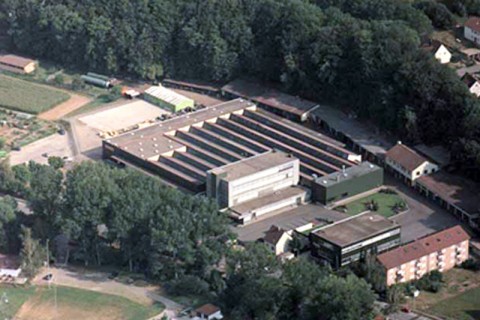 Expansion of the global sales network. Systematic ongoing development and expansion of the machinery range for aluminium and PVC profile processing. A new addition to the range in 1992: the SBZ 130 profile machining centre for increased efficiency in your production.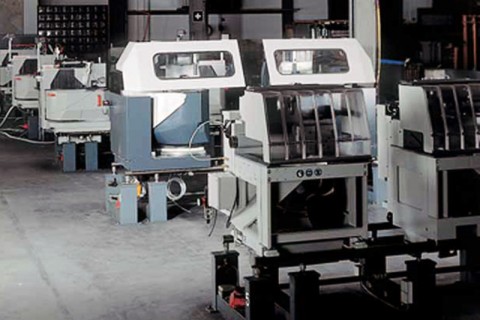 The saw product range expands with the addition of the DG 244 double mitre saw. The ideal machine for many different types of cuts and for large profiles.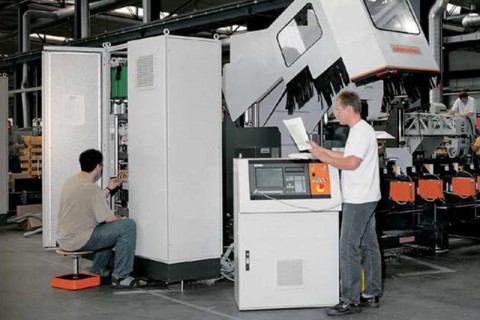 Further expansion of the product and sales programme with the SBZ 610 profile machining centre for PVC profile processing.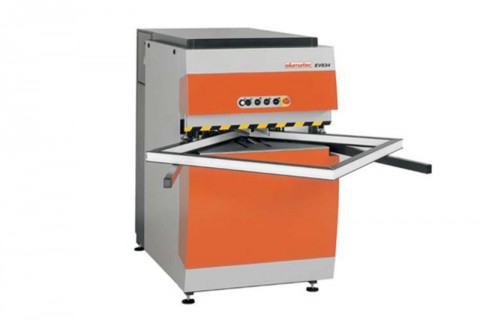 The perfect tool to clean your profiles! New to the range: the EV 834 corner cleaning machine for PVC window elements.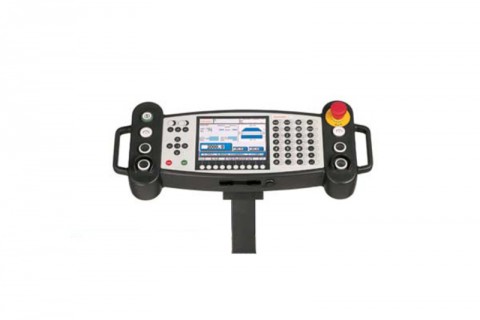 Ergonomic control panels and control elements provide the high level of user-friendliness elumatec products are known for.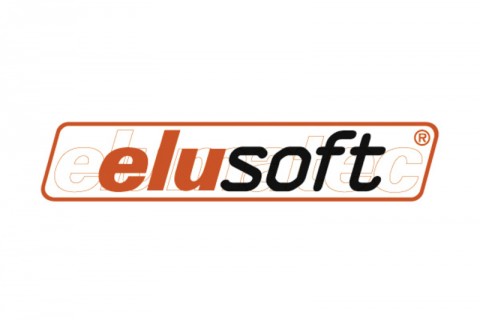 The 4-axis machining centres, SBZ 136 and SBZ 140, are added to the product range as newcomers. Everything from a single source! Establishment of the elusoft GmbH.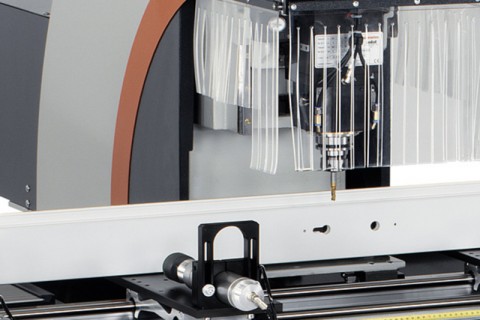 Automatic profile machining from above with a maximum working length of 2,500 mm is made possible by the SBZ 121 profile machining centre. The SBZ 122 model is able to process a profile with a maximum working length of 3,500 mm from three sides with full automation.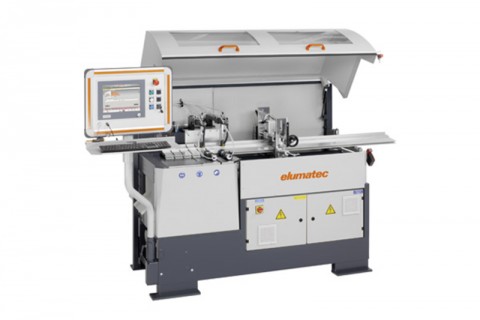 The SAS 142 automatic saw represents state-of-the-art manufacturing technology both in terms of efficiency and precision. Efficiency for industrial profile processing: The elumatec automatic saws SAP 650/10 and SAP 650/15.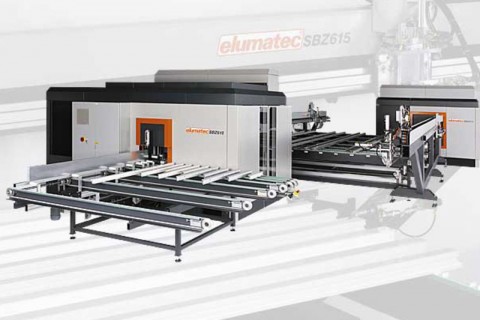 The SLK 118 template-free copy router expands the copy router market. A special challenge for design and development at elumatec: The SBZ 615 profile machining centre, specifically tailored to the British and French markets.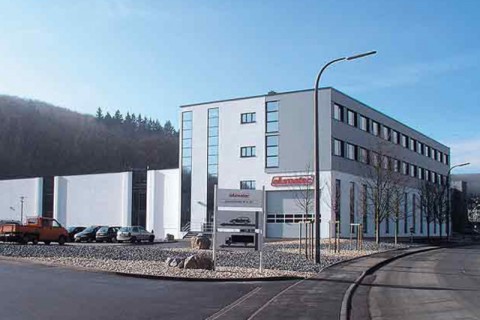 The new building at the company headquarters in Mühlacker-Lomersheim is completed in the summer of 2005. An additional 8,200 sqm. of floor space are now available for production and administration.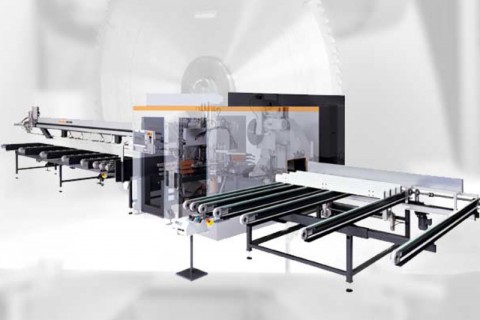 Expansion of the product range for aluminium profile processing with the SBZ 630 and SBZ 151 profile machining centres.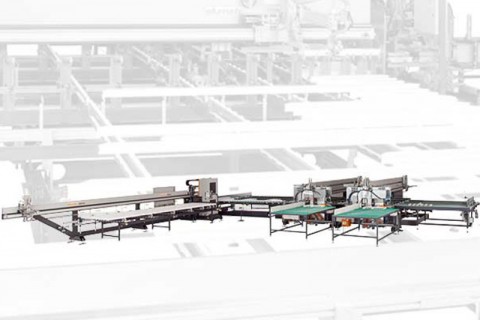 The flexible entry-level machine with increased efficiency. Automated screw driving, routing and drilling are carried out after an upstream saw unit – the SBZ 609 profile machining centre.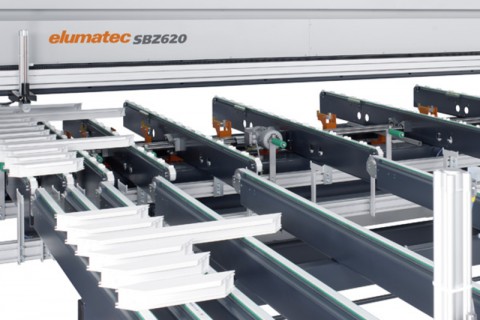 The expandable solution for maximum capacity – the SBZ 620 profile machining centre. Based on the proven SBZ 610 sawing centre and the newly developed SBZ 609 machining centre.
Efficiently joining what belongs together: the new welding and corner cleaning production line, SVL 785. Faster screw placement for automatic savings! The newly developed automatic screw driving machine, ABS 664.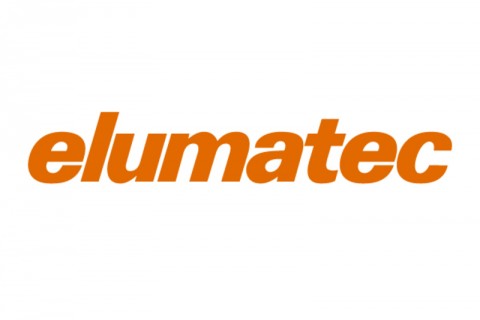 elumatec AG is established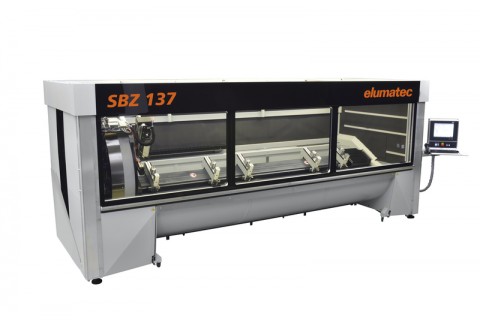 Right from the start, customer benefits were the primary focus during the development of the SBZ 137. Our many years of experience and know-how in the area of aluminium profile machining have gone into this product, making it equal to the demands placed on this type of machine by the market. The obvious key topics, such as high power and speed for dynamic performance of the actual machining tasks, are not all that matters. The frequently neglected areas of optimised ergonomics and easy setup for widely varying workpieces must also be considered.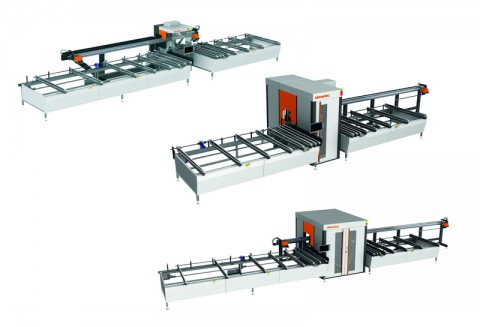 SBZ 618 - The ideal combination of automatic saw, SBZ 616, and post-processing centre, SBZ 617. For flexible complete machining with operations such as PVC cutting, PVC machining with or without reinforcement steel and reinforcement screw placement as well as with or without transom notches, even all the way to a profile bar ready for welding.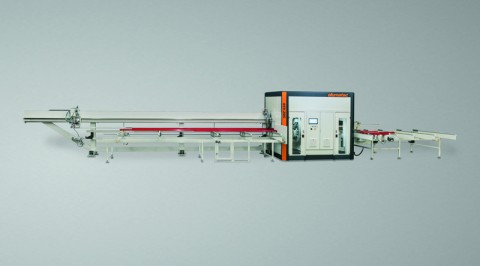 The SBZ 628 pass-through centre offers the best in flexibility for both machining as well as cutting to length of aluminium profiles in the metal construction sector and in industry. It complements the SBZ 630 / SBZ 631 profile machining centre, and combines its advantages, including production reliability, speed and economy with an impressive versatility. This allows the fully automatic machining of diverse profile types, such as for windows, doors and curtain walls, using up to eight routing units that can operate freely on the profile crosssection in coordination with patented innovations, such as travelling clamps and pivoting grippers.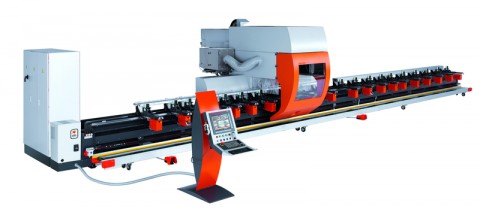 The new SBZ 151 generation with a Flexium+ control system has been completely redesigned, thereby enabling even more economical and efficient machining of aluminium and thin-walled steel profiles.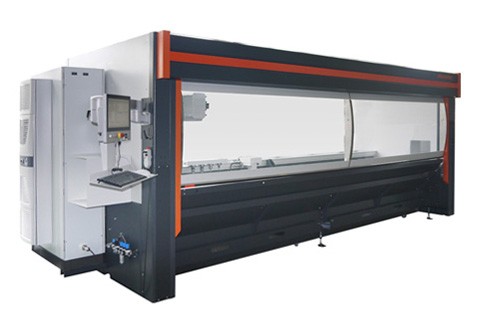 elumatec TechDays 2015 - Presentation SBZ 122 Facelift elumatec is introducing a new SBZ 122 family of models for all profile machining applications which require 3- or 4-axis centres. It has a modular design making it easy to adapt for various different needs. Components such as a modern control system, controlled spindles and powerful servo motors save on operating costs while improving machining results using intelligent control technology. That means fast, precise, flexible and economical machining of aluminium, PVC and steel profiles. The new SBZ 122 family of models includes an economically priced basic 3-axis model (SBZ 122/70) as well as a 3-axis version specially for steel construction customers (SBZ 122/71).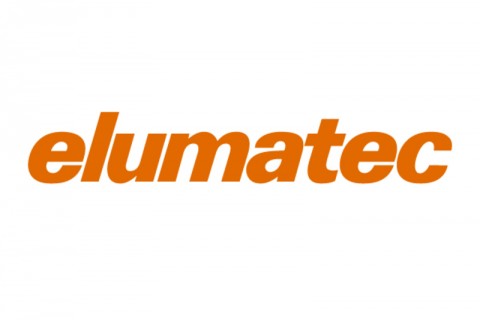 The Italian CIFIN Holding took over the elumatec Group. With the takeover of elumatec AG and its subsidiaries, elumatec AG and the Emmegi Group will together become the new heavyweights in the industry under the umbrella of Italian Cifin Holding, headquartered in Modena.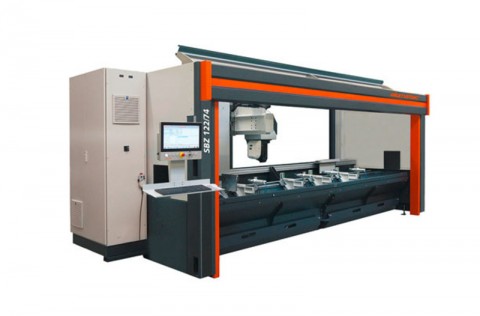 The new SBZ 122/74 profile machining centre, designed for industrial customers and metal construction companies that process aluminium, steel-reinforced PVC and light-gauge steel profiles, was presented at the FENSTERBAU FRONTALE 2016 trade fair as the newest member of the SBZ 122 family of models.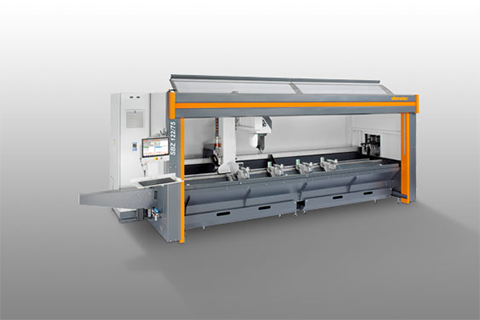 The new SBZ 122/75 with its 5-axes is the first profile machining centre in this performance class for economical and efficient machining of aluminium, PVC and steel profiles.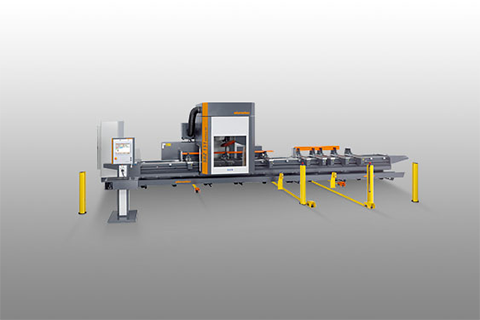 Special anniversary model: SBZ 151 Edition 90 profile machining centre
QUALITY
As the leading premium supplier, we do not only focus on sales figures, but on the even more important aspect of maintaining a leading position in terms of quality. As a consequence, our entire manufacturing process is subject to a comprehensive quality control system which allows us to react quickly whenever needed. Our machines are only rated "market ready" once they meet our high standards in terms of reliability, efficiency and accuracy. For us, quality management is the highest management priority, because quality begins with people, not with things. Our guaranteed supply of spare parts for ten or more years ensures a high level of production reliability. Our quality concept is based on our proximity to you as well as on the know-how and dependability present at all levels of our company – from development and design to manufacturing and on to sales and after-sales service. With commitment and passion we develop the best-possible solution for you, seeing ourselves both as a service provider and a dependable partner.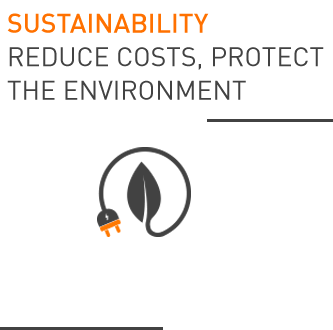 Environment and economy hand in hand.
Environment and economy complement each other perfectly. The proof:
We save € 20,000 and emit 66 fewer tonnes of carbon dioxide every year thanks to energy efficiency measures first implemented in 2011. An overview of the most important measures:

Eliminating compressed air leaks.
Compressed air is the most expensive energy source produced from electricity, so leaks almost literally mean money going up in smoke. Practical experience has shown that leakage rates of between 15 and 70 % are widespread in the industry, and by eliminating these leaks we have saved 126,000 kWh of electricity and 66 tonnes of carbon dioxide. Overall, that's € 180,000 since 2011!

Heat recovery from air compressors.
Over 90 % of the electrical energy used to compress air is converted into heat, and if no heat recovery procedures are in place this energy is wasted and enters the atmosphere. Instead, we use the waste heat from our air compressors to heat storage units and the water we use, among other things.

Other measures
Solar panels have been installed on the roof of our new company headquarters, providing electricity which we use ourselves. In addition, by using energy-efficient servers we have reduced our electricity consumption by 500 kWh a week.

Every four years we carry out an energy audit to ensure that we are consistently achieving our sustainability goals, and you benefit from this too – conserving resources reduces costs, which means we can guarantee competitive market prices in the long term.