30/07/2018
By your side
Looking back at our trade fair appearances in the first half of 2018
From Canada to Sweden via Belgium, elumatec AG and its subsidiaries visit trade fairs around the world in order to gain new customers and strengthen relationships with existing customers, attending eight in the first half of 2018 alone.
All our trade fair appearances this year have been extremely positive for us; we were able to showcase our expertise, gain insights into each country's domestic market and establish ourselves as a flexible and reliable contact wherever our customers need us.
Nordbygg
10-13 April 2018
Stockholm, Sweden
Practically every Swedish producer of doors, windows and curtain walls was in attendance at the Nordbygg trade fair, which gave us the chance to meet many of our existing customers. Considerable interest was shown in the SBZ 628 profile machining centre and the newer versions of the SBZ 122 profile machining centre.
Elmia Machine Tools
15-18 May 2018
Jönköping, Sweden
We attended Elmia Machine Tools for the first time, and it was such a success that we want to go back next year - with a bigger stand. As well as meeting lots of new customers from the industrial sector who we don't normally get to speak to in the course of our daily work, we were almost the only demonstrator showcasing aluminium machines and profile machining equipment.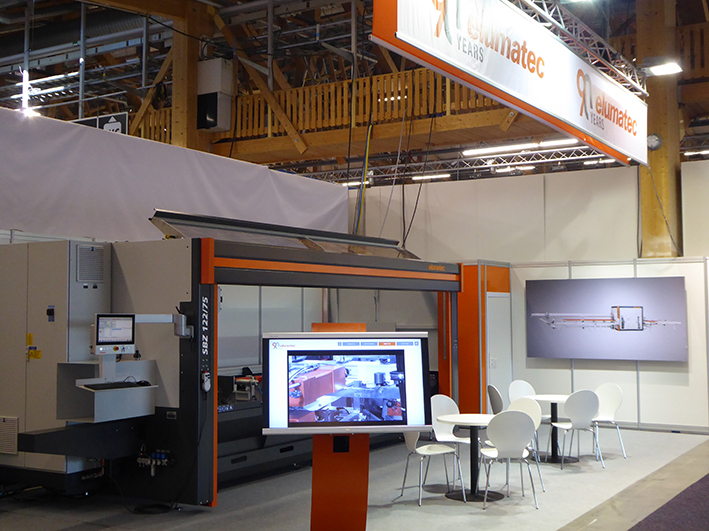 Ready for interested visitors: the elumatec stand at the Elmia Machine Tools trade fair in Sweden.
Image copyright: elumatec AG, Mühlacker
FABTECH Canada
12-14 June 2018
Toronto, Canada
The SBZ 122 range attracted the most attention at this trade fair too. FABTECH gives us the opportunity to discover new sales channels, and we can update the staff responsible for our current sales channels on the most important developments from the trade fair.
Industrie Paris
27-30 March 2018
Paris, France
This trade fair has a focus on machining metal profiles and saws, and we gained a number of new customers from the steel construction industry. Of particular interest to us at Industrie Paris was the contact with other metal construction companies, including window, door and curtain wall manufacturers.
Polyclose
17-19 January 2018
Ghent, Belgium
At this year's Polyclose, the trade fair for window, door, sunscreen, curtain wall and access technology, our stand was larger than in previous years. The SBZ 628, on display in a Perspex case, was the main attraction and drew large numbers of visitors.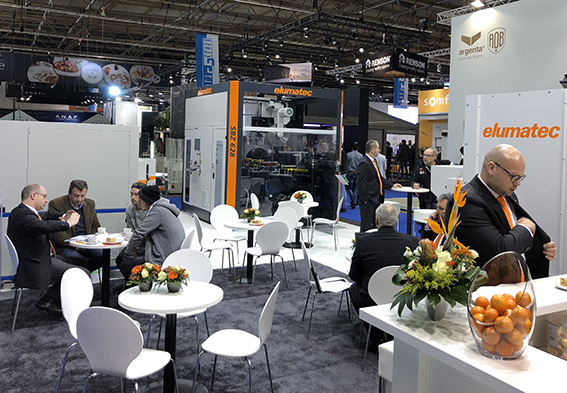 Making and strengthening contacts: inspiring conversation flowed at Polyclose 2018.
Image copyright: elumatec AG, Mühlacker
SWISSBAU
16-20 January 2018
Basel, Switzerland
The construction industry as a whole is the focus of SWISSBAU, with a particular emphasis on architecture. Our SBZ 122/75 profile machining centre provoked considerable interest, and we made a number of useful contacts with software and system providers and other exhibitors.
We will continue to attend trade fairs at home and abroad in the second half of 2018 - plans are afoot to appear at Windows, Doors & Facades 2018 in Dubai, Aluminium 2018 in Düsseldorf, and many more.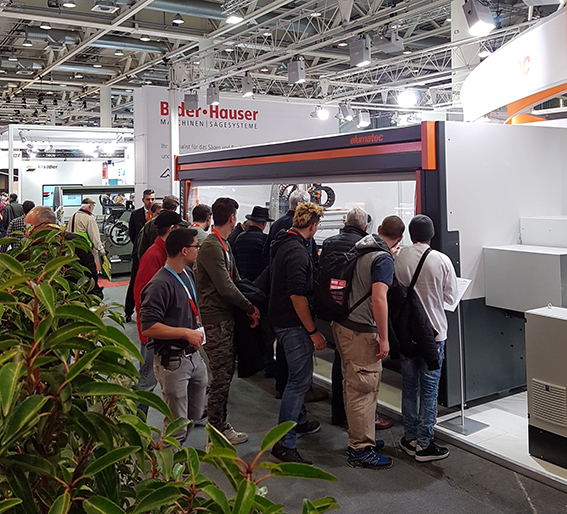 Pulling in the crowds at SWISSBAU: our SBZ 122/75.
Image copyright: elumatec AG, Mühlacker
---