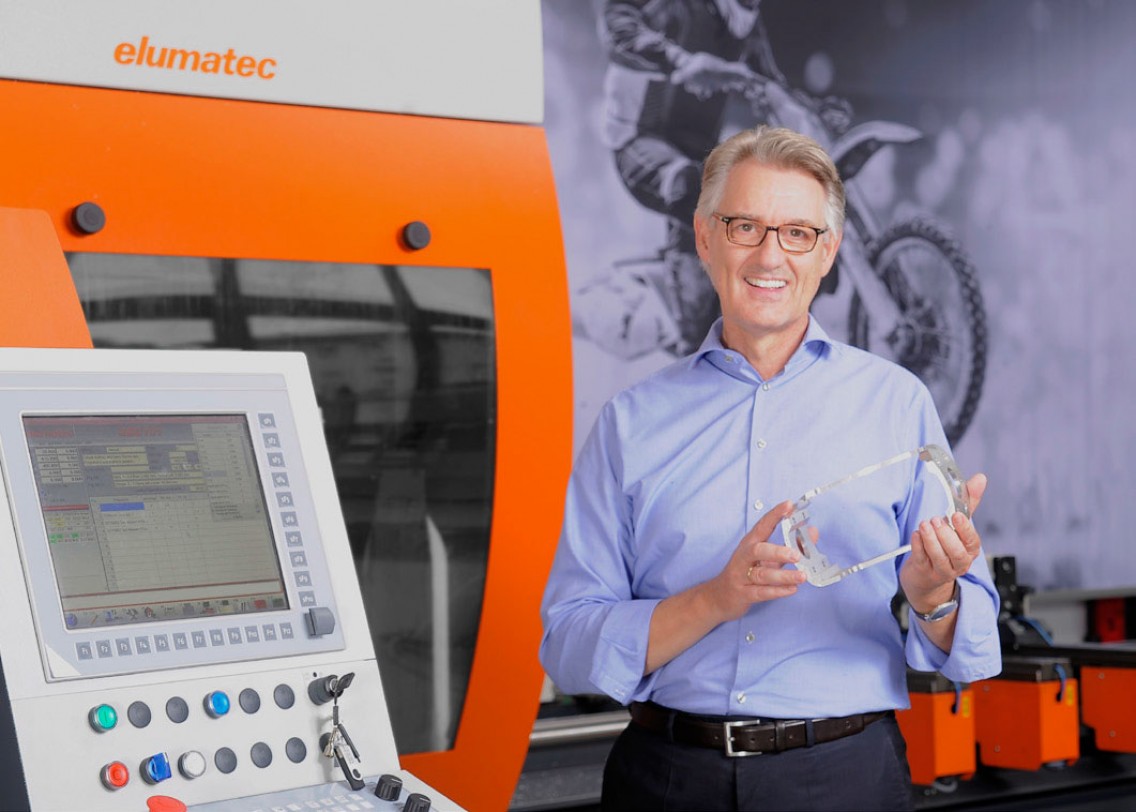 04/09/2017
Behind the scenes
Sales in Germany: "For us, sales means expert advice"
Customers don't just want machines, they want a system for higher productivity, reports Volker Klüber, head of sales for Germany, concerning his own observations. 360° spoke with him about the concept employed by sales at elumatec.
Every sales department is in competition. Catchwords are intended to show the potential customer how a company and its products are positioned: elumatec is the market leader for machining centres and saws for aluminium and PVC profiles, elumatec sells the majority of machines in this area of application, elumatec sells about 20% of its machines in Germany and about 80% are exported. These facts are correct and represent a successful concept. No question.
But that's not enough, head of sales Volker Klüber is convinced, for an elumatec customer in the metal construction sector or in industry to make a purchase. The customer does not always need the best machine, but rather, the right system for the application at hand. That sounds a bit like rhetoric from a salesman. But what's behind it? Skilful argumentation, aggressive pricing or the company's tradition? No, that's not the approach one needs to take to get to the bottom of the matter. So let's just take things one at a time.
"Customers want productivity."
elumatec has a tradition of banking on "Made in Germany." The machines are produced solely in Germany and the focus is clearly on performance. "Our machines are designed for technical excellence and quality, but not for a low price. That's just not who we are," says Volker Klüber concerning the brand essence. What customers expect is this: The machine needs to operate reliably and last a long time. That means economy. "Customers want to buy productivity," emphasizes Klüber. But he qualifies the remark promptly, pointing out, "that doesn't mean its enough to simply be a good machinery manufacturer."
The deciding factor for trouble-free production today is the transfer of the design data to the production control systems. The proprietary software, eluCad, delivers the data for all processes and machines on a common basis. It is open for all profile systems, which many customers value highly because it guarantees independence. At the subsidiary, elusoft, work on the future is already under way. Using the eluCloud, complete monitoring of the production processes becomes possible.
"We don't see ourselves merely as a machinery manufacturer, but as a supplier of production systems."
Finding the right solution: Expert technical advisers and applications engineers
Here, it becomes apparent that elumatec is both a manufacturer of machinery and a service provider. This is a must for anyone who wants to not only follow but also shape the transformation taking place both in craftsman's enterprises and industry. Consequently, Volker Klüber places a strong emphasis on customer orientation in his sales team: "For us, sales means expert advice, or in other words, technical competence." That's a simple concept and a clear statement. Typically Klüber. His team consists of nine technically trained expert advisers.
These team members all have between 5 and 25 years of experience in the company. This means that know-how is multiplied and serves as the basis for consulting competence which allows an economical solution to be found for specific requirements. The applications engineers come into play in a supporting role. They take care of training the customer's staff on site in their own production facility. "There's more involved than just a piece of machinery," emphasizes Klüber. "For us, a sale isn't completed with the delivery, but only when operational readiness is a given for production." Production and application consulting concerning the machine model, tool selection and range of possible uses are becoming more and more important. Because what use is the best machine if it can't be put to productive use? Customers are able to see for themselves in the Info Center in Mühlacker before making a purchase and can have samples from their own production fabricated there.
The product range also includes intelligently designed operating equipment which enables effective organization of the profile assembly tasks after completion of machining. This kind of thinking gave rise to elumatec's self-concept which Volker Klüber formulates like this: "We don't see ourselves merely as a machinery manufacturer, but as a supplier of production systems." That means everything, starting with the transfer of the design data in eluCad which delivers the data for all processes and machines on a common basis, to the development of special tools and clamping techniques for profiles and right on to the planning and delivery of operating equipment for customers' individual production processes.
Consistent, reliable, Swabian
The sales figures don't lie. Klüber laughs. Of course he is also a salesman who likes to tell customers that the elumatec concept really works. The SBZ 151, for example, has been in production at elumatec since 2005. The 500th machine will be delivered this year. The model has been optimized continually in the context of product updating and now, after technical revisions, the second generation is in production.
"We have quite a number of machines like the SBZ 151 on the market that remain in service for 10 years or longer at the customer's site."
The basic design and the ergonomics have proven themselves over the years making it certain that many SBZ 151s will still leave the plant in the future. "We have quite a number of machines like the SBZ 151 on the market that remain in service for 10 years or longer at the customer's site," remarks Klüber. Many years of product consistency do not exclude continuous technical refinements and innovations. Both the broad distribution of service technicians throughout all of Germany and the long-term availability of spare parts as well as the compatibility of all systems and software versions ensure a high level of production reliability. That's just the way elumatec is, observes Klüber, but it also belies a touch of Swabian conservatism. He likes to bring that into play, although he is not a Swabian by birth.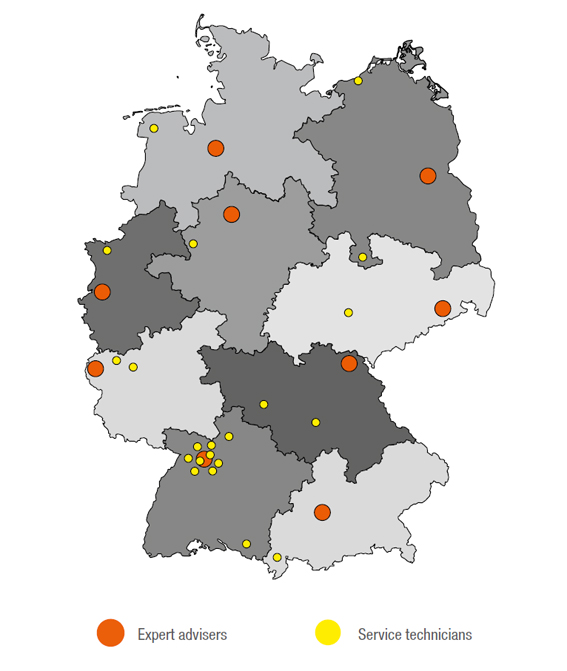 Expert technical advisers and service technicians at work for you throughout Germany
---