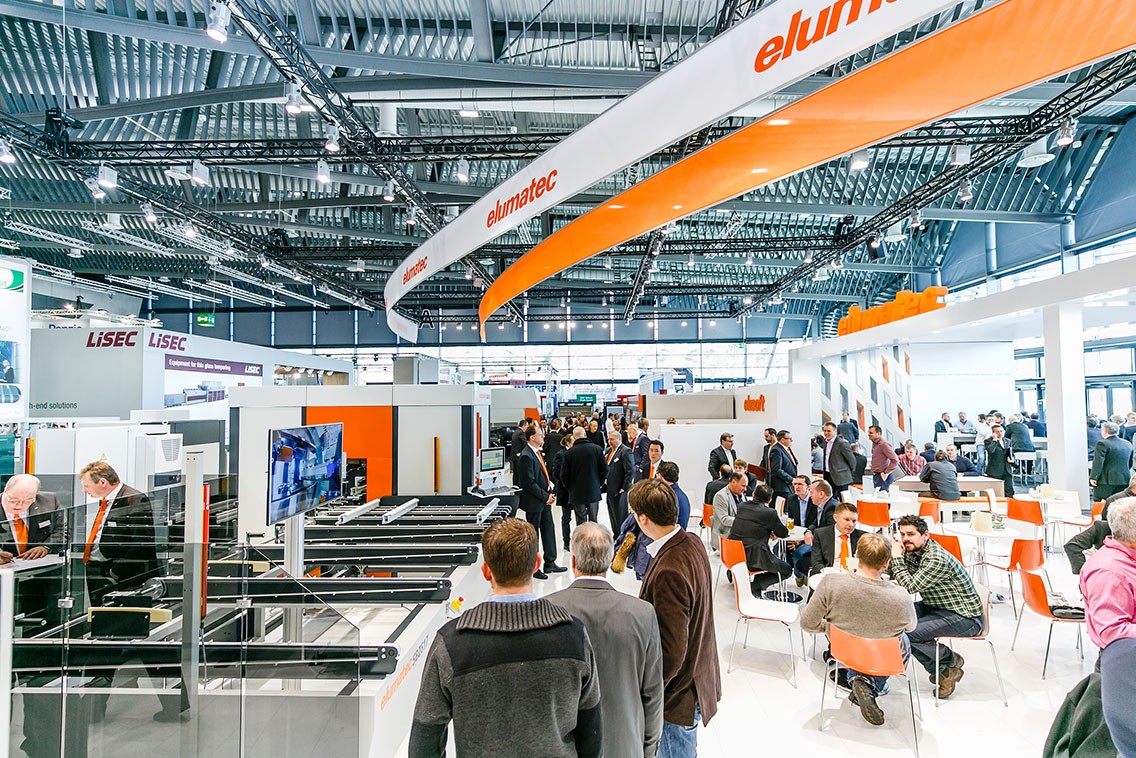 29/05/2016
FENSTERBAU FRONTALE 2016
Impressive trade fair presentation with customer-oriented innovations
The exhibition stand of elumatec AG at the international trade fair FENSTERBAU FRONTALE 2016 was a coveted port of call for profile producers from trade and industry. With numerous innovations, including a world premiere, elumatec provided an efficient response to the increasing demands in the areas of delivery time, precision machining, and energy efficiency.
Hands-on experience with the products, the opportunity to try them out, and even some live broadcasts from inside the machines - elumatec offered all this and more at its exhibition stand, which was invitingly decorated in the company colours.
The presented solutions for the manufacturing of windows, doors, and curtain walls made of aluminium and PVC attracted many national and international visitors. They took the opportunity to obtain comprehensive information, and to explore options to increase their productivity and profitability during in-depth conversations with elumatec technical advisers.
"Our job is to help customers successfully orient their business to meet new market demands. For this purpose, elumatec offers individual machines and complete solutions, partially complemented with products of its partners", explains Ralf Haspel, Head of Sales and Marketing at elumatec AG. Hence, specialists from elusoft were present at the elumatec stand with the eluCad profile machining software, as was our partner Stürtz Maschinenbau GmbH with its corner cleaning machine.
SBZ 122: Modular model series is setting new standards
The visitor interest was raised mainly by our world premiere: the SBZ 122/74 profile machining centre. It is the latest model from the completely redesigned and modular 122 series. With its 4-axis machining head, and with stable, compact, and autonomously moving clamps on linear bearings, it is tailored to meet the needs of industrial and metal construction customers.
The SBZ 122/71 3-axis centre was very well received in more manually oriented metal construction companies. According to Ralf Haspel, the entire SBZ 122 family of models embodies the elumatec philosophy perfectly: tailoring our solutions to meet the requirements of our users all over the world as closely as possible, so we can maximize the benefits for our customers.
SBZ 122 sets new standards in the entry-level automatic profile machining segment. Components such as the "intelligent" control system, controlled router spindle, the modern machine bed with its inclined design, and the powerful servomotors reduce operating costs, and contribute to a significant improvement of the machining results. Thanks to the redesign, the footprint has been significantly reduced compared to the previous series, while the processing area has significantly increased at the same time. The intelligent control technology reduces energy consumption by up to 30 percent, and the RPM-regulated router spindle ensures excellent machining quality. Another advantage: since the routing unit and the new drive system are lighter, the axes can now proceed at extremely high speeds of up to 120 m/min. This results in more speed, precision, and cost effectiveness.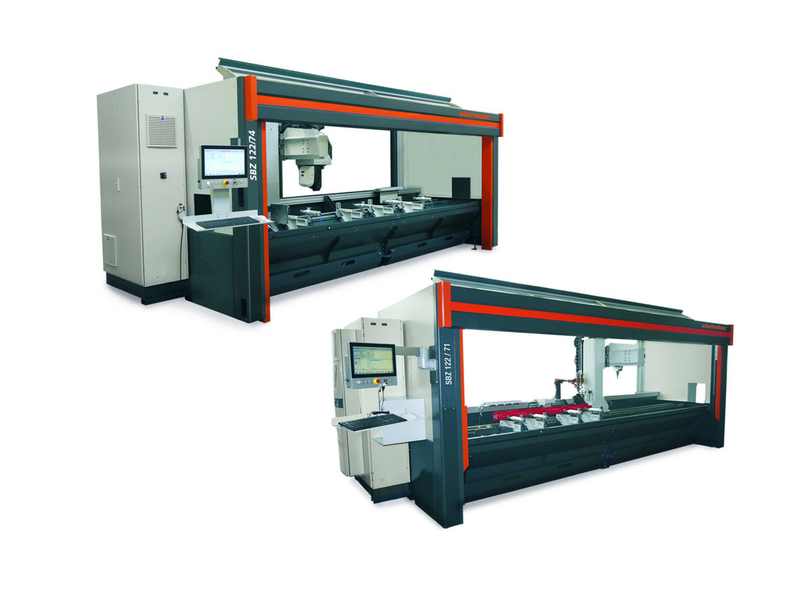 Stabbearbeitungszentren SBZ 122/71 und SBZ 122/74
SBZ 628: Flexible all-rounder with optimal results
The SBZ 628 pass-through centre attracted much attention since it was first presented in January. On a huge monitor wall, elumatec presented the new success model that has already sold more than 30 units since its market launch about one year ago. The highly flexible all-rounder for automated nonstop production saves costly intermediate steps, and makes conversions the exception to the rule. By rotating about an entire profile, the rotation module machines them effortlessly from all sides before the 4-axis saw unit with 360 degree pivoting subsequently finishes up with length cutting or adds notches to the profile. SBZ 628 can machine profiles vertically or horizontally, stationary or "on-the-fly". With its adjustable clamping technology, tools that can be freely positioned, and its quick drives shorten throughput time while achieving optimal results.
SBZ 616 and SBZ 617: Versatile duo for increased productivity in PVC special applications
Delivering complex PVC machining jobs on time despite tight delivery schedules? elumatec demonstrated how it's done with the SBZ 616 automatic saw and the SBZ 617 downstream centre. SBZ 616 guarantees fast and clean cuts with its powerful saw drive. SBZ 617 completes the machining: from drilling and milling, through notching, up to screwing the reinforcing steel and screw joints. Therefore, both machines were a coveted port of call for companies who wish to process special and angled elements more effectively. The visitors could observe the enormous flexibility of the machine duo live, and experience it in detail thanks to cameras operating inside the machines: the saw blade of SBZ 616, which allows stepless cuts from -22.5 to +22.5 degrees, or the rotation module of SBZ 617, with its tools that can be positioned at any angle. The combination of high automation and versatility, and the advanced software makes it possible to increase the throughput in the shortest possible time, and to deliver on schedule.
SBZ 151: Flexible, fast and accurate machining of curtain walls, windows and doors
The SBZ 151 5-axis profile machining centre is the right choice for companies who wish to machine aluminium and thin-walled steel profiles. Thanks to its high level of automation and modern control technology, metal construction companies can meet their customers' requirements quickly, accurately and with greater flexibility. Especially industrial enterprises benefit from the option of machining exceptionally long parts, which is possible thanks to the machine lengths of 6-30 meters offered by the SBZ 151. All operations, such as routing, drilling, tapping, thread milling, notching and sawing, are performed while the profile bar is stationary, offering the best-possible protection for the profile surfaces. With the optional angle head, profiles can also be machined from below, saving time and enabling the profile to be machined from all six sides in a single clamping operation. The robust direct drives ensure swift acceleration and positioning of the machining unit, which further reduces throughput times. Two separate work zones allow the machine to be used in shuttle operation mode.

Stabbearbeitungszentrum SBZ 151
eluCad: Simple and smart programming of machining tasks
Through live demos and presentations, specialists from our subsidiary elusoft demonstrated how to use the eluCad software to quickly and intuitively create programs for profile machining on elumatec machines. The focus was especially on special machining tasks and the "3D Import" module. This module recognizes machining tasks from 3D models and automatically converts them into a machining programme. The large variety of profiles used and the custom machining operations required mean that there are always special cases the 3D import module doesn't recognize correctly, e.g. machining operations on cooling ribs or angled surfaces. To convert these special cases into a machining program, these must be post-processed. eluCad 4.0 now offers new options to do just that. elusoft is presenting these and future innovations in the form of illustrative video tutorials on its own YouTube channel.
"This year's FENSTERBAU FRONTALE, which set a new record with over 110,000 visitors, emphasises the position of this leading trade fair, both for us, and for the entire industry. We presented ourselves very well, established many new and promising contacts, and deepened existing relationships with our customers and business partners", emphasizes Ralf Haspel. "We also noticed an encouraging trend: companies are starting to invest more again, and we want benefit from these investments with our products".
---