01/02/2019
elumatec AG
New year, new faces at elumatec – Part 2: Production
Hans-Joachim Fischer, our long-standing colleague and Head of Production and Logistics, entered a well-deserved retirement at the end of 2018, elumatec's anniversary year. After training as a car mechanic and completing his mechanical engineering studies, he joined elumatec in 1995 as Head of Design Engineering and took over as Head of Production in 2012.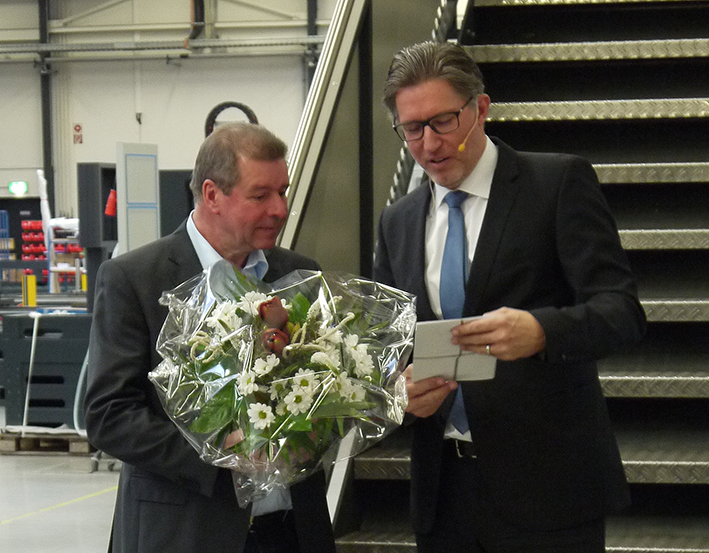 elumatec CEO Ralf Haspel bids farewell to Hans-Joachim Fischer at the 2018 Christmas party.
Image copyright: elumatec AG, Mühlacker
Preparations for the handover from Hans-Joachim to his successor Sebastian Kuhn began in the 4th quarter of 2018, and Mr Kuhn has now completely taken over responsibility for Production, Mechanical production, Production planning and control, Logistics and Quality assurance. As a certified mechanical engineer with a degree in technical business administration, in Mr Kuhn we welcome an experienced new colleague and we are very excited to work with him. After all, the slogan of our anniversary year was "Always one step ahead", and although 2018 is over, our ambition to always be one step ahead remains! And naturally we want to encourage this in all areas of our company – especially in production. We therefore wish Mr Kuhn every success, and here's to a trailblazing 2019 for all of us!
Sebastian Kuhn has been Head of Production & Logistics at elumatec since October 2018.
Image copyright: elumatec AG, Mühlacker
---